2014 Local Council and Mayoral Elections
Greens double their number of Councillors in London from 2 to 4
Greens come 2nd in Hackney Mayoral Elections and beat Lib Dems in Lewisham, Hackney and Tower Hamlets Mayoral contests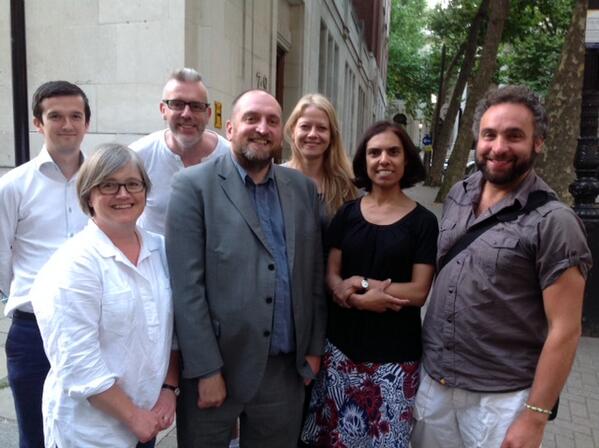 New Green Councillors elected in Islington (Caroline Russell, front left) and Lambeth (Scott Ainslie, right)
Seats held in Lewisham (John Coughlin, rear, second left - seat formerly occupied by Darren Johnson, front, centre left) and Camden (Sian Berry, rear, right - seat formerly occupied by Maya de Souza, front, centre right)
Greens poll 2nd in Hackney Mayoral Elections
To find out more about the Local Elections, please click on the links to the right
Holds in Camden and Lewisham
Sian Berry was elected to Camden Council with 1642 votes, representing Highgate ward. The seat was previously held by Green Cllr Maya de Souza.
John Coughlin was elected to Lewisham Council with 1495 votes, representing Brockley ward. The seat was prevously help by Green Cllr and London Assembly member Darren Johnson. John is now the sole opposition voice on the Labour council.
Gains in Lambeth and Islington
Scott Ainslie was elected to Lambeth Council with 1158 votes to represent St. Leonard's ward. After a recount Green candidate for St. Leonard's Jonathan Bartley narrowly missed out by a margin of only 57 votes. 
Caroline Russell was elected to Islington Council with 1214 votes, representing Highbury East - beating the Labour candidate by a margin of just 8 votes! Caroline is now the sole opposition voice on the Labour council.
Greens are now 2nd only to Labour in 4 of London's boroughs
"We need to fix broken electoral system to give Londoners a voice"
The Greens are now celebrating their vote share in 4 of the city's boroughs where Greens came second only to Labour - beating the Conservatives, Lib Dems and UKIP. London Greens saw a rise in support of 50% compared with the 2010 local elections - with their vote share increasing from 4.6% 4 years ago to 6.9% in May 2014.
The results mean that the Green Party could have won 125 council seats in the capital (becoming the official opposition in 4 councils) under a proportional system - but instead the current "first past the post" method has left up to one in five voters with no representation on their local council
In Islington Labour secured just 56% of the popular vote yet they now hold 98% of the seats, with the Greens the only party offering an alternative voice on the council. The Greens polled 2nd with 19% of the vote. 
In Hackney (see left) one in five also voted Green - making them the 2nd most popular party - but the "first-past-the-post" system meant they were denied a single Green voice on the council. 
A similar story emerges in Lewisham (below) where the Green Party secured 16% of the vote but just one seat on an otherwise Labour council.
In Lambeth, Greens came 2nd with 16% of the local council votes, but gained only 1 Green Councillor. The Conservatives, in third place with 15% of the vote elected 3 councillors.
Newly elected Green Party Councillor for Lewisham John Coughlin said:
"The Greens are immensely proud that we were able to double our number of councillors in London but it is disappointing that the growing support we are getting at the polls isn't fairly converted into political seats. Unfortunately, our established politicians can continue to sit pretty and ignore any opposition views while they know that the electoral system does little to represent the views of the voting public."
Results by borough
| | | | | |
| --- | --- | --- | --- | --- |
|   | Total Number of Cllrs   | Green Cllrs elected |   Green Party 2014 Local Election Vote share |   Green Cllrs elected under pure PR |
| Barking and Dagenham | 51 |   | 1.38% | 1 |
| Barnet | 60 |   | 8.30% | 5 |
| Bexley | 63 |   | 1.25% | 1 |
| Brent | 63 |   | 4.54% | 3 |
| Bromley | 60 |   | 5.31% | 3 |
| Camden | 54 | 1 | 15.69% | 8 |
| City of Westminster | 60 |   | 5.62% | 3 |
| Croydon | 70 |   | 8.86% | 6 |
| Ealing | 69 |   | 3.77% | 3 |
| Enfield | 63 |   | 6.05% | 4 |
| Greenwich | 51 |   | 6.88% | 4 |
| Hackney | 57 |   | 20.50% | 12 |
| Hammersmith and Fulham | 46 |   | 2.48% | 1 |
| Haringey | 57 |   | 15.42% | 9 |
| Harrow | 63 |   | 1.16% | 1 |
| Havering | 54 |   | 1.66% | 1 |
| Hillingdon | 65 |   | 3.69% | 2 |
| Hounslow | 60 |   | 4.39% | 3 |
| Islington | 48 | 1 | 19.23% | 9 |
| Kensington and Chelsea | 50 |   | 1.37% | 1 |
| Kingston upon Thames | 48 |   | 6.85% | 3 |
| Lambeth | 63 | 1 | 15.51% | 10 |
| Lewisham | 53 | 1 | 16.27% | 9 |
| Merton | 60 |   | 1.84% | 1 |
| Newham | 60 |   | 0.55% | 0 |
| Redbridge | 63 |   | 1.99% | 1 |
| Richmond upon Thames | 54 |   | 5.99% | 3 |
| Southwark | 63 |   | 11.92% | 8 |
| Sutton | 54 |   | 2.96% | 2 |
| Tower Hamlets | 40 |   | 6.48% | 3 |
| Waltham Forest | 60 |   | 5.59% | 3 |
| Wandsworth | 60 |   | 6.11% | 4 |
| Total Result | 1839 | 4 | 6.97% | 125 |