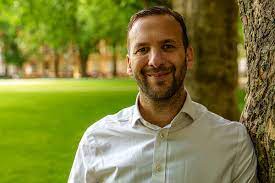 Zack Polanski has announced his candidacy for deputy leader of the Greens.  
In an interview with the New Statesman, the London assembly member said he hopes the party can build on May's local elections – "I want to see two to five Green MPs in power after the next general election, and 1000 Green councillors by 2025″.
The local elections saw a 'Green surge', and now hold 547 council seats. And Zack would fight for Greens to be covered more by TV and radio. BBC's Question Time has not invited a Green Party spokesperson on the programme this year.
Polanski said: "We now have more councillors than UKIP did at their peak and they were never off the TV."
If successful, Polanski will replace deputy leader Amelia Womack, who served for 8 years. Zack said only the Greens offer the policies that England and Wales need:- "There is no environmental justice without racial, social and economic justice too – and I think the Green Party is the party that truly gets that."