2015 General Election
Greens now pose main threat to 8 of Labour's London seats
Results from the 2014 local council elections show that Greens are now the main opposition to Labour in 8 parliamentary constituencies.
Left: Caroline Lucas made in history in the UK's last General Election by becoming the first Green to be elected to Parliament. She is MP for Brighton Pavilion.
The locals were the most recent electoral contest in London to use the same "first past the post" system as General Elections.
Greens are set to pose the major threat to MPs in Islington North, Islington South, Hackney North and Stoke Newington, Hackney South and Shoreditch, Lewisham Deptford, Holborn and St Pancras, Camberwell and Peckham, and Tottenham, outpolling Conservative, Liberal Democrat and UKIP candidates in these areas in May 2014.
The seats are currently held by a number of prominent members of the Labour Party, including Deputy Leader Harriet Harman (Camberwell and Peckham) and Shadow Minister for Health Diane Abbott (Hackney North and Stoke Newington). 
Speaking on the night of her election in May 2014, Councillor Sian Berry for the Camden ward of Highgate said: "The results today show that Greens are now the main opposition to Labour in much of central London"
The Greens are currently in the process of selecting their Parliamentary Candidates - check out the 2015 link to the right to find out who will be standing in your local area.
May 2014 European and local election round-up
Jean Lambert returned to the European Parliament
Nearly 200,000 Londoners voted for Jean
1.2 million UK wide voted Green to re-elect Keith Taylor SE MEP and elect SW's first Green MEP Molly Scott Cato
Jean Lambert (front row, left of centre in image to the right) said: "Thank you London voters for returning me to the [European Parliament]. Great feeling."
To find out more about the European election, please click on the link to the right
Greens double their number of Councillors in London from 2 to 4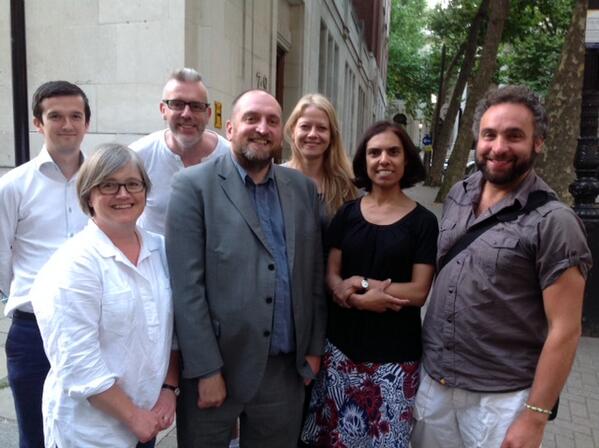 New Green Councillors elected in Islington (Caroline Russell, front left) and Lambeth (Scott Ainslie, right)
Seats held in Lewisham (John Coughlin, rear, second left - seat formerly occupied by Darren Johnson, front, centre left) and Camden (Sian Berry, rear, right - seat formerly occupied by Maya de Souza, front, centre right)
Greens poll 2nd in Hackney Mayoral Elections
To find out more about the Local Elections, please click on the link to the right