2015 General Election
Across England and Wales, the Green Party will be standing candidates in over 90% of seats. In London, we are proud to say that every seat will be contested by the Green Party on May 7th's General Election.
Find out more about our candidates here
Women make up half of Green Party candidates in London
London Greens are bucking the national trend - currently less than 1 in 4 MPs are female. The London Green Party's diverse list of Parliamentary candidates also includes the country's first ever out trans man to stand for parliament, Charlie Kiss, candidate for Islington South, and a huge mix of ages ranging from 19 to over 70. 
Greens pose main threat to 8 of Labour's London seats
Results from the 2014 local council elections show that Greens are now the main opposition to Labour in 8 parliamentary constituencies.
The locals were the most recent electoral contest in London to use the same "first past the post" system as General Elections.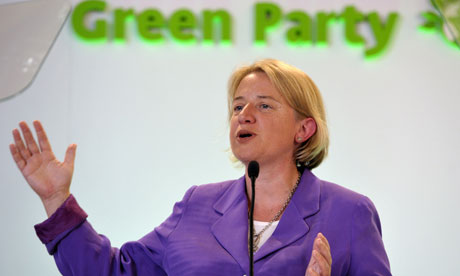 Greens are set to pose the major threat to MPs in Islington North, Islington South, Hackney North and Stoke Newington, Hackney South and Shoreditch, Lewisham Deptford, Holborn and St Pancras (where Green Party Leader Natalie Bennett, left, is a candidate), Camberwell and Peckham (contested by Green Party Deputy Leader Amelia Womack), and Tottenham, outpolling Conservative, Liberal Democrat and UKIP candidates in these areas in May 2014.
Speaking on the night of her election in May 2014, Councillor Sian Berry for the Camden ward of Highgate said: "The results today show that Greens are now the main opposition to Labour in much of central London"
At the general election, vote for a party you believe in.
Support for the Greens is soaring. A new member is joining the party every five minutes, and polls are placing the party ahead of the Liberal Democrats. By pledging your support to the party, you will help us demonstrate to other voters living in your area the strength of support for the Greens - helping us to build a national movement that can deliver real political change.
Click here to pledge to vote Green